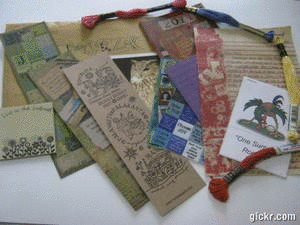 Okay, so this one isn't mine. I saw it in the camera..
it belongs to my mother. I told her to take pictures of the stuff that she will send. And here they are:
4 skeins of embroidery thread, an FB and SB, a couple of stickers, 3 big bookmarks,
a 2011 planner, an owl postcard, some memo sheets, gift tags, a letter, and a slipper keychain from my trip to Baguio.
I hope her partner will like everything. Most of the items here are recycled.